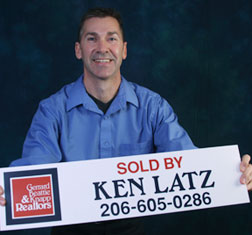 KEN'S BIO
I was born and raised in Michigan as part of a large, yet close knit family. I've developed strong ties with my relatives living all around the world. I have traveled extensively, learning other cultures, seeing world sites and experiencing new things.
I moved to Seattle in 1989, and fell in love with the region instantly. Its versatility satisfies all of my interests, including scuba diving, hiking, backpacking, skiing, and gardening.
I also enjoy the extensive entertainment options that Seattle has to offer, from the deep variety of cultural events to the diversity of the music scene to the award-winning stage productions.
Professionally, I have a background in the travel and leisure business. That's where I gained valuable experience in sales and marketing, contract negotiation and customer service in order to create custom excursions to satisfy my clients' dreams. I have used this experience in my real estate career with my clients and dealing with other agents. It has helped me with my clients negotiations, winning offers for my clients!
---

ePRO CERTIFIED
Attaining skills to use the Web and to employ the latest interactive techniques and services
> website for details
---

ACCREDITED BUYERS REPRESENTATIVE
Gaining skills, industry knowledge and access to specialized programs to successfully represent homebuyers
> website for details
---

ACCREDITED SELLERS REPRESENTATIVE
To deliver "added value services" including exclusive representation, honesty in pricing and adherence to strict ethical standards
> website for details
---

ACCREDITED STAGING PROFESSIONAL
training under strict guidelines to use proven Staging techniques developed for over more than 30 years
> website for details
---

Working in our clients' best interests since 1978.
> Gerrard Beattie & Knapp LLC
---